HIKING FESTIVAL
ON YOUR SHOES... GET SET… WALK !
The Hiking Festival in Pays d'Aubagne and de l'Étoile will return in 2024!
From 2009 onwards, the Hiking Festival introduces you to the richnesses and secrets of the towns and villages of the Pays d'Aubagne et de l'Étoile.
Initiated by the Tourist Office and partnering with hiking associations and with the Comité Départemental de la Randonnée Pédestre des Bouches-du-Rhône (CDRP13), the Hiking Festival promotes a different program each year, with dozens of hikes of varying duration and difficulty to meet your needs and your thirst for discovery.
Garlaban is the star of the show, but the Mont Julien ridges, the breathtaking landscapes of the Sainte-Baume or the trails around the Pays Minier are not left out.
Throughout the Festival, you will be able to uncover the stories of these mountains, towns, and villages of the region.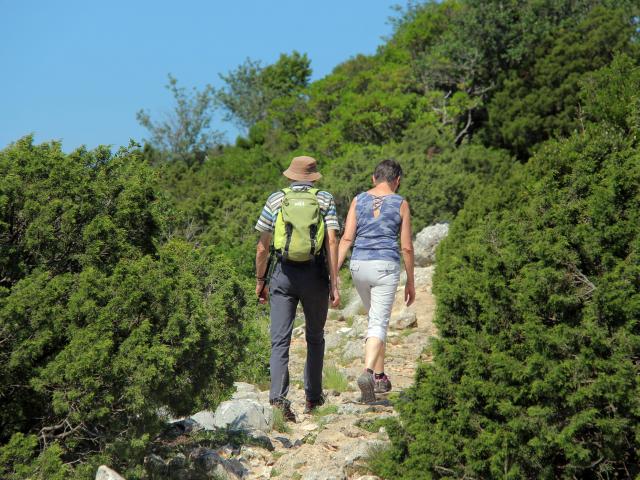 SINGLE RATE OF 4€
PER PERSON AND PER HIKE

The nature of Provence is rich in unsuspected treasures that are just waiting to be uncovered. Marcel Pagnol's native land is the very essence of it. Here, the paths weave their way through the scrublands, all along the tracks, pine trees deliver their friendly and refreshing shade, while the cicadas crunch in the foliage. Along the paths, you will be able to admire wild plants and smell the many fragrances of Provence: thyme, sage, rosemary…
But not only…
… The Hiking Festival meets all your expectations and presents a variety of hikes of different lengths and themes. No need to be a seasoned walker, because whether you are an avid hiker or a contemplative walker, with us, Nature is within everyone's reach. Hikes for nature lovers, for gastronomy lovers, for athletes or for Sunday sportsmen.
DON'T HESITATE ANY LONGER, COME AND RECHARGE YOUR BATTERIES WITH US!
Pays d'Aubagne et de l'Étoile