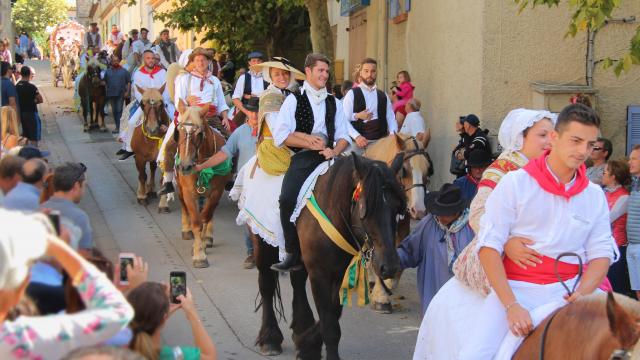 The cavalcade… 
A family story, a village story, a history of tradition.
A few hours when young and old alike marvel at the equestrian and musical parade. When the hustle and bustle of floats, riders and hooves is covered by laughter and applause in the audience.
Saint Eloi – St Eligius Day
A peasant festival celebrated between wheat and grape harvest, where each village and hamlet of the Garlaban area plays a friendly competition.
In turn they organize balls, concerts, serenades and dinners during the summer season.
In Provence, Saint Eloi celebrations are dedicated to the village, its farmers, and their animals, because Saint Eloi was a great protector of horses.
Thus, as a highlight of a week of celebration, mules, comtois horses, percherons and other horses working all year round are put in the spotlight, and in their most beautiful appearance, and parade during the cavalcade.





The cavalcade is the climax of a week of festivities and traditions related to horses.µ
It is an opportunity to pay tribute to our elders, people of the land, when their horse was their working tool, their means of transport, their companion, and their faithful friend.
On this occasion, richly harnessed horses, many decorated wagons, and carts reproducing scenes of Provençal daily life, fifes and drums, galoubets and tambourines, as well as all the contestants wearing their most beautiful Provençal costume, parade through the village, dressed in a thousand flowers in blood and gold colors of our beautiful Provence.
Provençal Traditions
in Pays d'Aubagne et de l'Étoile